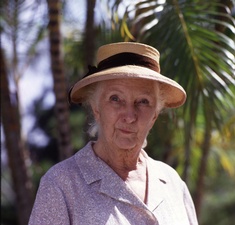 The elderly spinster with a swarm of relatives, including the celebrated novelist Raymond West, her nephew, this first lady of detection had been called everything from a "dithering old maid who is all caught up in her knitting," to a "nasty old cat." Far from Margaret Rutherford's film version, Agatha Christie's Jane Marple was tall and thin with great masses of snowy white hair piled high on her head, pale blue eyes, "a pink crinkled face" and seventy-four years old when she first appeared in Murder at the Vicarage. Miss Marple based her methods on the belief that "human nature is much the same everywhere, and, of course, one has opportunities of observing it at close quarters in a village." She regarded St. Mary Mead as a microcosm of the world. Her favourite pastimes were birdwatching and gardening and "in the art of seeing without being seen," said Leonard Clement, the vicar, "Miss Marple had no rival." She often compared people to one another, finding parallels in character traits. She also maintained that no one was above suspicion, "and that you simply cannot afford to believe everything that people tell you."
Among Miss Marple's friends and acquaintances were Leonardand Griselda Clement, Dr. Haydock, Amanda Hartnell and Caroline Weatherby, Colonel Arthur and Dolly Bantry and Sir Henry Clithering. Miss Marple was still active, although extremely aged, at the conclusion of Nemesis. Leonard Clement summarised the endearing old lady: Miss Marple "is not the type of elderly lady who makes mistakes. She has got an uncanny knack of always being right."
Murder at the Vicarage; The Thirteen Problems; "Miss Marple Tells a Story" from The Regatta Mystery; The Body in the Library; The Moving Finger; A Murder is Announced; "Strange Jest," "The Tape-Measure Murder," "The Case of the Perfect Maid" and "The Case of the Caretaker" from Three Blind Mice and Other Stories; They Do It with Mirrors; A Pocket Full of Rye; 4.50 from Paddington; "Greenshaw's Folly" from The Adventure of the Christmas Pudding; "Sanctuary" from Double Sin; The Mirror Crack'd from Side to Side; A Caribbean Mystery; At Bertram's Hotel; Nemesis; Sleeping Murder.
Ad blocker interference detected!
Wikia is a free-to-use site that makes money from advertising. We have a modified experience for viewers using ad blockers

Wikia is not accessible if you've made further modifications. Remove the custom ad blocker rule(s) and the page will load as expected.